Hey freshmen! Want to see a FREE SHOW this weekend?? Of course you do! So come support Tufts theater and your fellow class-of-oh-ten-ers this weekend at...
ARSENIC AND OLD LACE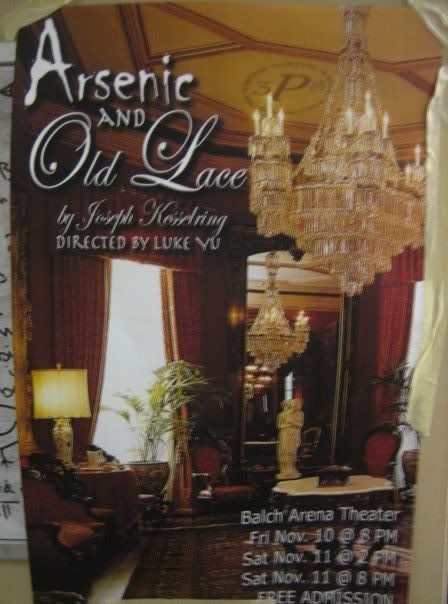 With a cast and crew consisting entirely of freshmen! (Starring: Jason Edes, Tasha Milkman, Jess Bidgood, Sam Tempchin, Ethan Hochheiser, Michael Levine, Scott Silverman, Greta Cottington, Michael Nance, Jay Romano, Joe Pikowski, Biz Herman, and Andrew McIntosh)
Arsenic is a dark comedy about two little old ladies who aren't as harmless as they seem...but I don't want to give anything away, so you'll just have to come see it:
TODAY (Friday) at 8pm
SATURDAY at 2pm or
SATURDAY at 8pm
in the Balch Arena Theater at Aidekman Arts Center. Once again admission is FREE so you have no reason not to be there ;)
Hope to see lots of you there!